Online Catalog
About Us
Contact Us
Newsletter
Links
FAQ's
Home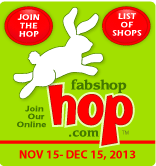 SCROLL DOWN TO SEE SELECTED NEW ITEMS & ANNOUNCEMENTS.

WELCOME SHOP HOPPERS: SCROLL DOWN TO BOTTOM FOR YOUR BUNNY HINT.

TO REDEEM A FABSHOP CERTIFICATE, SEE THE "FAQ" page for instructions.


NEW: Black Tie Quilt Kit by Marianne Elizabeth




New: Rose Apple Cottage Quilt Kits by Marianne Elizabeth



New: Marianne Elizabeth's Roses & Cream Quilt Kit. Top kits just $69.99

Emmie's Applique Pattern: BACK IN STOCK!

NEW MUST HAVE QUILTER'S TOOLS:


Basix Ruler and Basix Baby Ruler are THE must have tools for modern quilters.
The Basix uses 2 1/2" strips (think Jelly Rolls) while the Baby Basix uses 1 1/2" strips (think Honey Buns). Quick easy strip piecing, and quick cutting techniques yield quick easy blocks. These sold out like HOT CAKES at the Vermont Quilt Festival. You'll want them, too!!


NEW FROM MARIANNE ELIZABETH:


Woodland Meadows as featured in Oct. Fons & Porter 2013

SWEET DREAMS KIT: Several fabric options!


MYSTIC GARDEN QUILT KITS!

SPRING RADIANCE Quilt Pattern & KIT. Choose Honey or Burgundy

GET A FREE COPY OF MARIANNE ELIZABETH'S PATTERN: http://www.fonsandporter.com/articles/Spring_Radiance_free_quilt_pattern

LEGACY SAMPLER QUILT pattern

New from Australia: Harmony Rose Applique Quilt Pattern

Banyan Tree Quilt Pattern

NEW: Highland Rose Quilt Kits starting at $49.99

New: Exclusive Hand-Dyed Valdani Pearl Cotton Thread Gift Boxes

Christmas Tree Skirt Pattern

New Aspen Twist Quilt Pattern & Kits: From Lap to Super King Size
Aspen Twist is quick, easy AND fun! Kits from $79.95

New: Serenity Quilt Kits and pattern by Marianne Elizabeth

NEW: Arabella Rose by Marianne Elizabeth

NEW: Quick Hawaiian Applique Kits

NEW: SoftFuse packs and rolls

New Bali Pop Colors!


To see SALE items, type the word SALE into the catalog search box.



Dancing Umbrellas

NEW APPLIQUE PATTERN: Spring Bouquet Applique Quilt Pattern


HURRY!! from Marianne Elizabeth: GARDEN SONG QUILT KIT

Check out these new bag patterns and all the other styles! And Textured Bag Slides

NEW! Bag Patterns

Puppy Love
Hootie The Owl
Elephants on Parade

Applique:

Vintage Applique Quilt Kit and Pattern


Marianne Elizabeth's Pot of Flower's Applique Vase Quilt Pattern

Make one or make them all! Elegant Garden Quilt Patterns


___________________________________________________________.



HOLIDAY FAB SHOP HOPPERS HINT:

1. HOP to the CATALOG(click here) and you're on your way!

2. STRAIGHT TO NEW FABRICS(CLICK here)

3. SCROLL DOWN NEAR THE BOTTOM: ARABELLA ROSE (Click here)





From bedroom quilts,decorative pillows, bed skirts, pillow shams, baby pillows, lap quilts, baby quilts & layettes, these authentic English, French And American reproduction fabrics are something to dream about. Home DEC is the latest trend in quilting. We can make it SEW much better than store bought, and get that decorator look at a fraction of the price.